On Tuesday Feb 9th, SustainUS is hosting a side event, at which we are excited to bring together the voices of youth entrepreneurs around the world to discuss critical global issues and challenges we together face as social innovators. Title of our event is "Achieving Sustainable Development through Social Entrepreneurship: Voices of Global Youth Innovators".  At CSocD-54, many of the critical issues for NGO's and civil society have been addressed so far in relation to the seventeen 2030 agenda or the sustainable development goals (SDGs). However, there have been relatively little voice heard from youth as we are minority in a greater representative space for all of civil society such as CSocD despite the increased attention given to the youth throughout the ECOSOC Youth forum, which ended just before the beginning of CSocD-54.
Looking at this matter, SustainUS is excited to initiate a collective dialogue among the youth participants in CSocD-54, especially among the youth entrepreneurs through this side event. Our plan is to start the event with opening speeches from three youth entrepreneurs on their enterprise, and the challenges and opportunities they perceive in their present environment. After that, we hope to shift the event into a more interactive dialogue and discussion into the topics we identified as most relevant to the general theme of CSocD-54.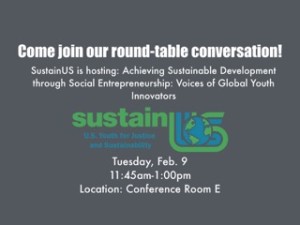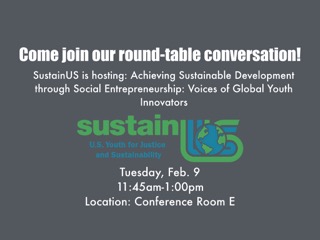 The priority theme of CSocD-54 is "Rethinking and strengthening social development in the contemporary world". As the priority theme suggests, our contemporary world is marked by constant changes and fluctuations in the environment and factors that determine the outcomes of our performances in both work and the living environment. We will begin the discussion by prompting all participants to introduce the ideas of social innovations each of us had in our hometown and work places. We hope to bring this discussion deeper by addressing challenges and opportunities faced in making these ideas into reality through entrepreneurial effort. We will each discuss our experience, and share our insight and perspective by discussing the best practices we established in each of our local environment. Last, we will end the discussion by sharing our answers to the question of what our next action should and will be after the discussion, and as we hope to bring United Nations' Sustainable Development Goals into our practices after the experience at CSocD-54.
The present 54th Commission marks the special moment for United Nations as when UN is opening up to an unprecedented degree to bring the voice of minorities and those who work at the grassroots level to one of its main bodies of international decision-making. As SustainUS is also hoping to make a statement on the floor of UN, we are excited that we will create a positive force to bring a more cohesive and stronger voice of youth to United Nations.
SustainUS side event will take place between 11:45 and 12:30p.m. on Feb 9th, and our discussions will address the following topics in summary which will be addressed in specific by youth entrepreneurs invited to speak at our event:
Ideas on Social Innovations

Best Practices – policies, programs, and initiatives

What is our next action?
Post by: Hanna Lee