It's been two years since the People's Climate March, the largest of its kind in history,  took place in New York City. Many of us can still recall the anger, energy and hope evoked from that historic day but few may have paid nearly as much attention to the visually striking artworks that made the event so memorable.
For Rachel Schragis, art is a tool that helps make real change possible. A visual artist by training, Rachel chooses to use creativity and system thinking as mediums to fight against the injustices in our society. Her artworks can be found across a wide array of social movements including Occupy Wall Street, Domestic Worker Justice, Fossil Fuel Divestment, Flood the System and People's Climate March as the coordinator of the Arts team. One of her projects is a 6-inch high, 90-foot long roll of canvas that showcases the multiple facets of the climate movement like a movie. Unlike conventional artworks, this piece is presented by a group of people in a circle as it is unfolded and passed around from one person to the other. In the meantime, the facilitator will start singing a song that Rachel has written, the message being no one has to feel dejected because all of our grievances are connected.
Photo courtesy: Rachel Schragis
Separate but Connected
Art gives Rachel the unique perspective to be able to identify the abstract from the mundane. While the scroll paints specific and seemingly separate symptoms of climate change such as a storm, a drought or an abandoned town, it is not complete without participation from the audience. "It's a piece of art that runs on social movement," as Rachel puts it.
The combination of art, music and human interaction made the scroll much more powerful than just a physical object. Yet the influence of this scroll didn't stop spreading beyond the circle. Ryan Camero, an arts activist focused on water issues in California, is one of the instrumental organizers who recognized the scroll's potential in helping to build a sense of unity and connection through the singing activity. Watching it being performed for the first time at the Gabfestry festival for artist activists, Ryan described the experience as powerful and unifying: "For the scenes unfolding right in front of your eyes as it's moving through the circle, especially with the stories portrayed in it, you could really feel a sense of collective empathy on all of those different struggles that encapsulate the climate movement." Three years later after its creation, the scroll has travelled around the country and across the world, making its way to the SustainUS COP21 delegation in Paris to play a crucial role in remedying the despair of youth wrestling for change in the negotiations.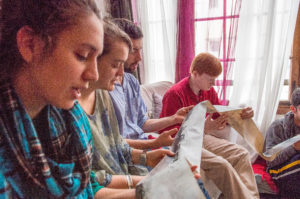 Photo courtesy: Christian O' Rourke
Rachel recognized that's something people who are fighting this particular pipeline here or a tracking well there struggle with a lot. It was a need that people had to see themselves connected to something bigger. The people that are on the frontline of climate crises around the world who are rebuilding their cities, the people who are fighting against infrastructure projects, the people who are fighting for a greener job economies and people who are struggling with drought — they don't necessarily say "I am the climate movement", but they're doing the work of confronting climate change.
The Big Picture  
Art, as an integral piece to communication as a whole, goes hand in hand with expressions. If one is able to connect to a person emphatically, he/she can reach them in a stronger way to build camaraderie and eventually collective action. While both Ryan and Rachel's work involves getting people to act in service of climate justice, that reality is true for any message anyone wants to share. Since social movements are oftentimes related to complex systems, cultural organising is playing an increasingly important role in bringing in talents from different fields.
Since the People's Climate March, Rachel has stepped into the role of bringing in people who are skilled as cultural organizers and bringing out the creative side of everyone. She realized what's needed isn't artists who paint banners, but someone who can speak to artists, to think about cultural strategy and figure out what does it take to engage the creative communities in a particular moment.
A New Chapter
In what ways can people see that they're part of a bigger movement? Out of this inspiration, Rachel made a new image that pulls photographs from different places in which people are confronting climate change. Every figure in the image comes from a photograph archiving people either impacted by climate change or fighting against it. "It was important for me not to show people suffering but to show people responding and building power," said Rachel.

Photo courtesy: Rachel Schragis
During the two years of making this piece, Rachel interviewed over 100 activists and organizers who worked on different parts of the March to help unearth all of the different, inflicting imperatives that she saw people expressed. "If you give people more information and more space to ponder the complexity with you, we end up building the community that stays in this fight for the long haul," says Rachel. This work, highlighting that complexity, is particularly essential in the many interlocking efforts for climate justice – for too long, the amorphous identity of the climate movement has remained a question for those who are involved.
This new image will be a catalyst for everyone to start having more intentional conversations about the connections between social movements. Whether as an educational tool for SustainUS' COP22 delegation this November or an exhibition piece in public spaces, it will be a constant reminder of the galvanizing power of art if we build narratives to begin shaping into reality together.
Rachel has a Kickstarter fundraising page for the new image. Click here if you'd like to support!