By Dineen O'Rourke and Karina Gonzalez, SustainUS COP23 Delegation Leaders
As the results of the 2017 U.S. election were called on November 8th, the sun was beginning to rise over the city of Marrakech, Morocco. Our COP22 delegation had been spending the entire night preparing for an action at the conference the next day, and when we arrived, we could feel the change in the air, an acknowledgement of the high stakes we were now working with. In front of hundreds we presented the People's To-Do List – our way of showing that now, more than ever, the work of addressing the root problems that plague our world must be – and will be – led by social movements. With youth from around the world we mourned, sang, and shared stories of hope and resistance. We pledged to take greater risks. To do this work with love. Read: "Dispatches From a Youth Delegate at COP22."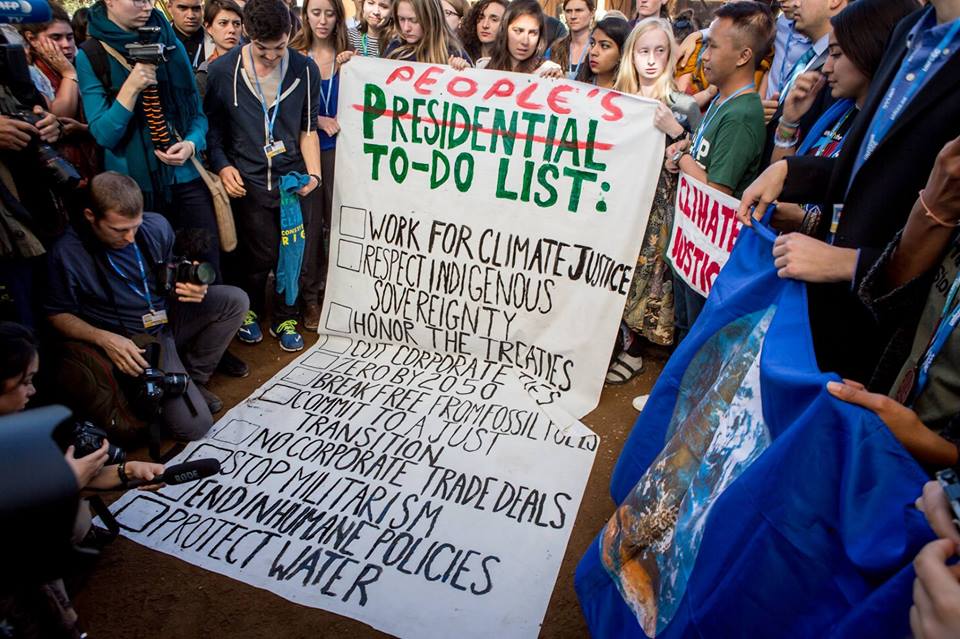 Truly addressing climate change in the year 2017 requires us to plant our feet deeper into our work and act with a profound mix of urgency, critically-analyzed strategy, and humility and respect for the world and our place within it . Whether or not we believe COP23 is the fundamental place for these pivotal changes to occur, the conference will be providing a global moment where power can be leveraged towards the advantage of climate justice, and where we can directly hold this administration accountable on an international stage. We're ready for the challenge. Will you join us?
Learn how to join our delegation to the 2017 UN Climate Negotiations.
Last year saw the first launch of the SustainUS Creative Challenge – a dynamic application process that we believe fosters the growth of the youth climate justice movement while calling forth the skills we'd like to see on our team. This is your chance to publicly share your story – whether it's through writing, music, podcasts, artwork… any medium that conveys why and how you work for climate justice. We will support you in publishing your submissions along the way. Whether you're a climate science researcher, musician, policy advocate, direct action organizer, a campus fossil fuel divestment leader… we encourage you to apply.

      Karina painting banners during COP21 & Dineen leading songs at COP22
For both of us, participating as youth delegates at COP shed moments of despair and hope. Despair at the slow pace of a process – where for our entire lives meetings have been occurring while greenhouse gas emissions have doubled, while those most affected are excluded from the negotiating table – and hope for the global movements that converge and display their power and innermost courage. At COP21 in Paris, Karina helped plan actions, attended marches, talked to media, and had the time of her life. At COP22 in Marrakech, Dineen led the mobilizations team, facilitating and planning the many actions SustainUS held both inside and outside of the conference.  We both believe in the power of creative resistance – using song, art, and storytelling as both tactics of resistance and sources of rejuvenation. Now, we're so eager and grateful to be working together to lead the new SustainUS delegation and be apart of an intentional team of committed, action-oriented climate justice storytellers. Click here to begin the COP23 Delegation application!
Let's do this. Learn more at Sustainus.org/cop23